Summer Camp Cancelled for 2020 Season
Tuesday, May 19, 2020 by Katt Baxter | Uncategorized
Unfortunately, due to the extension of limitations on social gatherings and the size of our studio space, I have had to make the hard decision to cancel summer camps this year. There is just no safe way to host groups safely in our little studio room at this time. We will keep looking ahead to the fall in the hopes that groups will be able to start in person and not on line and will update accordingly.
2020/2021 Group Class Registration Open
Thursday, April 30, 2020 by Katt Baxter | Uncategorized
New group classes beginning in September! Sign up now to reserve your spot!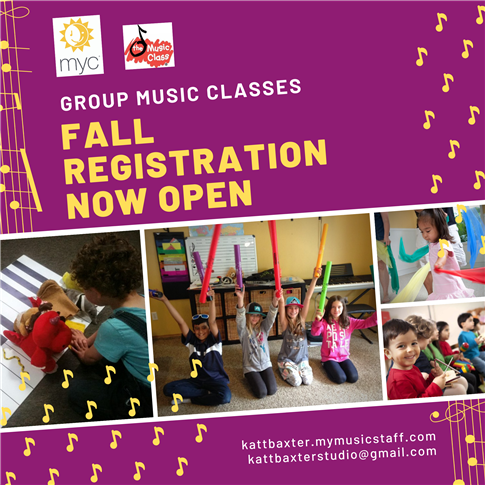 Our classes this year include:
♫ Music Pups (ages 0-2) Wednesdays at 9:30am
♫ Sunrise (age 3) Wednesdays at 4:30pm
♫ Sunshine 1 (age 3) Mondays at 4:30pm
♫ Sunshine 1 (age 4) Tuesdays at 5:00pm
♫ Sunbeams 1 (ages 5-6) Wednesdays at 5:30pm
♫ Moonbeams 1 (ages 7-9) Thursdays at 6pm
♫ Moonbeams 2 (previous experience required) Mondays at 6pm
♫ My Choice 1 (ages 10-14) Tuesdays at 6:30pm
Contact us for more information!
NEWS: ONLINE LESSONS ONLY
Thursday, March 12, 2020 by Katt Baxter | Uncategorized
As of Saturday, March 14th all private studio lessons will be held online only until schools reopen.