Summer Camp Registration is Open!
Sunday, February 23, 2020 by Katt Baxter | Uncategorized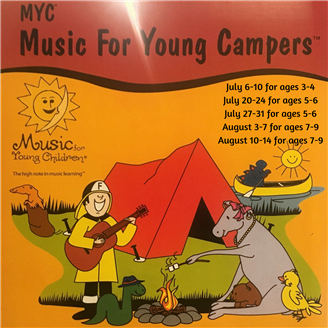 "The Music for Young Campers™ objective is to provide campers of all ages and abilities with a memorable MYC music enrichment experience in a safe environment where learning is FUN, new friends are made and self-esteem and confidence grow."
Camp is an exciting and fun music program for children, and a variety of camps are available to suit the needs and musical abilities of all ages in a fun camp learning environment.
There are five different MYC camps, each running at $185/week. The Camp Happening, Critters Come to Camp and Beethoven Comes to Camp, all of which are presented to children with no music background. Critters return to Camp and Beethoven Returns to Camp have been modified for children who have MYC or other music experience.
Children will have fun making new friends and creating camp memories. New families will be introduced to MYC or current students will continue to develop their music skills. Crafts, sports and games, orchestra, singing, movement and a variety of other indoor and outdoor activities will aid in providing a memorable summer music adventure.
Check out our Summer Camps page for more information or to register!
Feature Friday!!!
Friday, February 14, 2020 by Katt Baxter | Uncategorized
This young lad has worked so hard this year and has just finished his first level of piano. Look at that smile! Way to go C.! Keep up the good work!